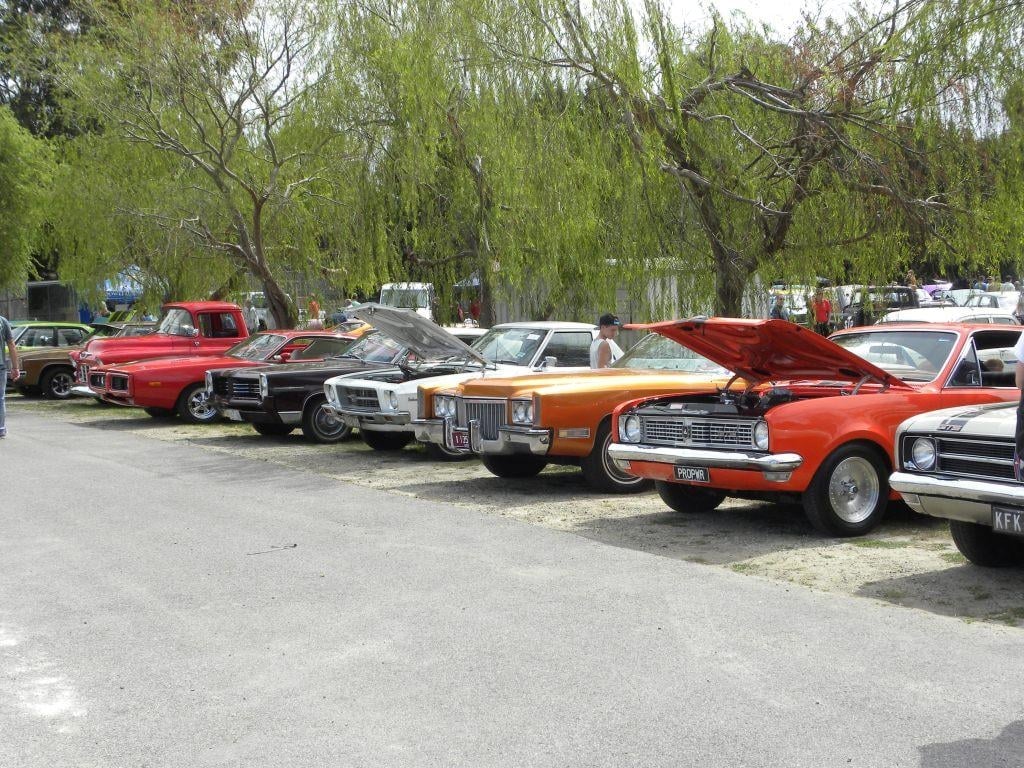 That's a wrap for yet another hugely successful Show n' Shine event Thanks to ALL 3,500 people who attended and made the day the success everyone is talking about. To all the Show Car entrants, Swap Meeters and the General Public we extend our thanks for your attendance and your patience in getting to the event. Jump onto our Facebook page for the latest photos and you can see all the winners of each catergory on the next page of this site. Associated pictures will follow in due course. ______________________________________________________________________

The event promises a great time for all ages, with lots to see and do.

As well as a great range of

​

Show Cars, Motorbikes, Jet Cars and Rare Bikes on display, Rotary Aeroplane Engines, Trucks and SWAP MEET,
there is also a wide variety of STALLs, not to mention the big crowd puller, the infamous annual

LAWN MOWER RACE.
Bring the family, bring the neighbour, come on your own, but be sure to be there because there will be something for

EVERYONE!


~~ Jan and Glen McGregor ~~ ~~ Max and Joan Kneebone ~~
Bob Comber Electrical, Lang Lang 0418 396 856
CG Engraving ph: 5678 8037
Kerr Bros Excavations, Lang Lang. Phone Chris 0409 877 971 Lang Lang Post Office. Ph: 5997 5219 International Egg Suppliers, Lang Lang. Ph: 9882 5126 Help U 2 Drive. Ph: 0472 591 897
Mulnot Pty Ltd ------------------------------------------------------------------------------ Andway Road Haulage
Palace Hotel, Lang Lang ~ A&R Diecast ~ John Duff & Co
THAT'S A WRAP FOR SHOW n SHINE 2020
"Well, what a great day we had! Profit of
$30,000
will be making its way to help those affected by bushfires and drought in Victoria. We had in excess of 800 Show Cars, a crowd of 3000 plus strong, and over 120 stalls and "Swap- Meeters" And the Mower Racing was certainly popular with big crowds present throughout the day.
All in all a most successful day, and our biggest to date. Though the weather was threatening and quite windy, it didn't dampen the enthusiasm of all and sundry that came along. It was great to see so many helpers turn up on the day; we had families, Members, partners and friends of Rotary, their friends, young and old alike, many community groups such as the Football and Netball clubs, Scouts and their parents, Rotarians from other clubs, and so many others who turned up to help out.
Also a special thanks to our many sponsors who have continued to support this event.
A special thank you to all who contributed in any way, before, during and after the event. We are not going to try and name you for fear of missing someone, but you know who you are, and you are many. Without your help this event would not be as successful as it has been. Sincere thanks again."
Jan Kruizinga and the Committee of Show N Shine.
Presentation of the $30,000 cheque raised from the 2020 event where proceeds were donated to the East Gippsland Rotary Fire aid . From the left. Chris Wood. Manager Bendigo Bank Lang Lang and a major sponsor. Peter Dell Assistant Rotary Governor district 9820. Laura McBride CEO Community Bank Lang Lang. Judy Wright Rotary Club of Koo Wee Rup Lang Lang President. Keith White Media and Public Relations. Jan kruizinga Show N Shine president. Rudi de Jong Co-ordinator.
About Us - The Lang Lang Show n' Shine
The
Lang Lang Show'n'Shine Car Show, Swap Meet and Lawn Mower Racing
, is an initiative of the
Rotary Club of Koo Wee Rup Lang Lang
. The annual event has been a huge success with the local community, sponsors, vendors, exhibitors, competitors and attendees.
Situated at the Lang Lang Showgrounds, in the heart of Lang Lang, Victoria; the show has drawn some of the best vehicles from the local area and beyond. The Showgrounds have large grassed, treed areas and sporting oval. Together with the large indoor Pavilion there is adequate room for all activities.
The Lang Lang Show n' Shine values it's family friendly atmosphere with plenty of rides and activities for kids of all ages.
The team from VIC MOW will be out racing throughout the day on their specially designed track at the rear of the showgrounds.
VIC MOW will be running different classes of Mowers from 110cc Juniors through to 450cc Super modified class A Mowers.
These beasts reach speeds of up to 75kmh with only a few centimetres separating the dirt from the drivers seat.
At the midday break there will be activities for the kids and they will have their racing mowers on display to the
public (please note, it will be a closed pit area).
Practice kicks off at around 9am and the racing from 9.30am.
The Trophy presentation is scheduled for 2pm (depending on racing completion)
A relay race, involving all the different Mower categories, is a highlight and is usually the last race of the meet.
For further details log onto the Vicmow website:
http://vicmow.com/